I ordered an iPad (which shipped today) without having a clear idea of how we (Barb and I) would use it. Surf the web, check email, maybe read a book or two.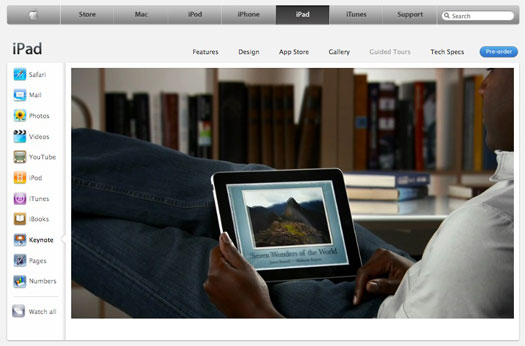 After watching the guided tours that went up on the Apple website today, I think I underestimated this little slab of magic. I was very impressed with the Keynote app. That's the Apple version of PowerPoint. I can easily imagine whipping up a presentation while waiting for a flight.
Pages looked awfully good, too. I'd call it a word processor but it looks like a lot more on the iPad. I have Pages on all my Macs but rarely use it. I think I might on the iPad.
We won't know until people get their hands on the iPad and start playing with it, but I think it's going to become THE computer (or whatever we wind up calling it) for a lot of folks. If I had to guess, I'd say that 90% of the stuff that most folks doing on a laptop will be easier and more fun on the iPad.