As far as I know, I did the first live video feed from a committee room at the Missouri state capitol. I know, you're asking yourself why would anyone bother. You could ask that about a lot of important-but-not-too-interesting news.
We've been streaming audio of debate in the Missouri House and Senate for 8+ years and recorded audio of lots of hearings, but never video. Finally all of the pieces of the puzzle seemed to be in place: hardware, software, wifi.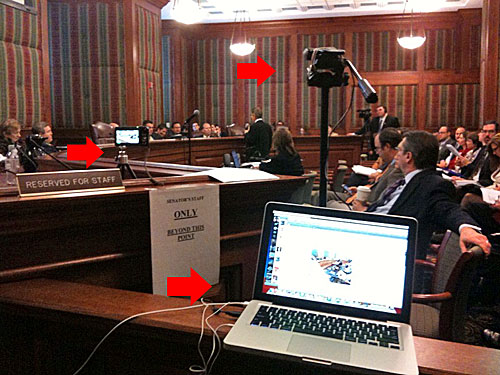 I used a little Logitech webcam (on the tripod); the Casio Exilim for back-up (on the small tripod) and ran it (the LogiTech) through CamTwist up to USTEAM. I think I can skip CamTwist next time. You can sample a few seconds below.
It ain't CBS but I didn't have wait on the sat truck, either. Next time, I might just try this on the iPhone if I can get close enough.