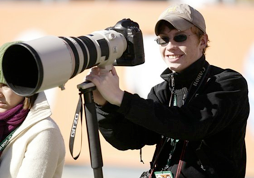 I don't remember how I happened across Jonathan Brownfield. One of those six degrees of Twitter things, probably. Jonathan is a professional sports photographer and has shot games involving "our" teams so that was probably it.
Along the way he mentioned visiting family in Missouri over the holidays so I tweeted him with an invite to stop by for lunch/tour/interview.  Today was the day.
Here's some background from one of Jonathan's websites (for those that take a pass on the interview):
"While in high school, I started working as an assistant for Sports Illustrated photographer, David Klutho. That marked the beginning of my career as a professional photographer. This lead to having over 20 photos published in Sports Illustrated.

When I started college I began working for the University of Missouri Athletic Department and became their Head of Photography. Besides shooting, I coordinated a group of photographers to make sure every home event was covered.

During my sophomore year I was recruited by Hooters to photograph some of the local girls for the 2008 and 2009 calendars and the 2008 Miss Hooters International Beauty Pageant.

I currently shoot sports for US Presswire.

Now days my work is regularly seen in USA Today, ESPN Magazine, and in the LA Times."
Did I mention that Jonathan is 23 years old?
I made a list of questions to ask a professional sports photographer only to discover that Jonathan has branched out from that (still a passion but now kind of a weekend thing). I rambled on with my questions so I've chopped the visit into two, 20-minutes chunks. The first one is mostly bio and social media. The second finally gets around to some sports stuff.
I was very impressed with Jonathan. Accomplishing what he has at 23, it would be easy to conclude one's poop is odorless. He is what your grandmother called "a nice young man."
You can see some of his photography here. He blogs here. And he's @johnnybond86 on Twitter.