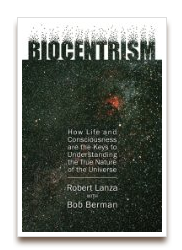 I'm reading a mind-stretching book. Biocentrism by Robert Lanza (with Bob Berman). I wouldn't know where to begin describing what this book is about. Like John Sebastian said, "it's like trying to tell a stranger 'bout rock and roll."
The authors, however, are very good at explaining the most complex concepts. Here's a little riff on Time:
"Imagine that existence is like a sound recording. Listening to an old phonograph doesn't alter the recording itself, and depending on where the needle is placed, you hear a certain piece of music. This is what we call the present. The music, before and after the song now being heard, is what we call the past and the future. Imagine, in like manner, every moment and day enduring in nature always. The record does not go away. All nows (all the songs on the record) exist simultaneously, although we can only experience the world (or the record) piece by piece. We do not experience time in which "Stardust" often plays, because we experience time linearly."
This book is not for everyone. If you have too much "reality" in you life to think about the possibility it's all "in your head," you can take a pass on Biocentrism. But it will get a spot on my nightstand as one of those books I'll have to read again and again.