While flipping through the latest edition (were there previous editions?) of Jefferson City Magazine, I came across this ad for KRCG TV. Actually, it's only half of the ad. I think the facing page had some news guys or something. But Marketing Consultant Kristi Gratz was clearly out front.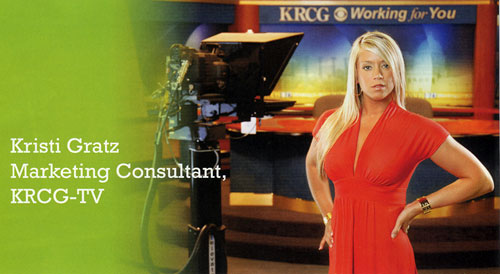 I don't know Ms. Gratz but assume she is a very good Marketing Consultant or she would no be so featured. But this ad does not conjure up reams of ratings data and CPM charts. Frankly, Ms. Gratz looks hot. I don't think that was her –or KCRG's– intent, it's just the filthy old horn dog in me.
And if you imagined Jefferson City as some midwestern hayseed haven, take gander at the cover of Jefferson City Magazine. It would seem you can't swing a dead cat without hitting a babe or a hunk (and the occasional horn dog).
This cover has given me a great idea. Coffee Zone: The Ones To Watch. I don't have time to lay it out tonight, but watch this space or YanisCoffeeZone.com later this week.
If you'll excuse me, I've got to call KCRG regarding some spots promoting smays.com.
"Oh, hello. May I speak with Ms. Gratz, please? Yes, I need some marketing."