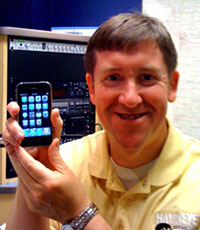 Missourinet reporter Steve Walsh showed up for work on Thursday with a brand new iPhone. Like most of the folks in the newsroom, Steve is a long-time radio guy who remembers what a splicing block is used for.
All of our reporters know how to post stories to the web and about half of them are getting their Twitter on. But it was nice to see Steve invest his own hard-earned journo bucks in the latest tech. (I've encouraged him to take advantage of the 30 day grace period and upgrade to the new iPhone)
I can't wait to see how Steve uses the iPhone to cover and report the news. To help him along, I thought I'd make a list of some apps that might be useful. I have these on my phone but the list is far from comprehensive and I welcome your suggestions in the comments.
Google News Reader
Tweetie – my Twitter client-of-choice
TweetMic – For recording audio and linking to Twitter
Camera – Comes with phone. Stills and video
Photogene – Great for cropping and tweaking still images
Steve does most of the heavy lifting for the Missourinet blog which can be found at Missourinet.com.