Strange/muted tension at work today. I am one of a handful (five? six?) of out-of-the-closet Obama supporters in our office. Two years ago, Bush supporters roamed the hallways like Senior jocks, administering titty-twisters to freshmen Liberals. As Bush devolved into the pariah he has become, they shed their Neocon uniforms and melted back into the crowd.
Today, the morning after the majority of Americans said they'd had enough of W and his ilk, I gave the gop'er's lots of room and resisted the Snoopy Dance. And they found other things to talk about as we passed each other in the parking lot.
A few have dropped a little chum in the water to see if I'd bite ("Boy, the country is in trouble NOW"). But it's hard to lay this shit-storm at O's feet after only a few hours.
But it's coming. A few of my pals are already looking forward to playing "I Told You So," but I'm ready.
I'm encouraging them to chronicle every misstep of our new president. If they don't have a blog, I'll help them set one up. They can share their anger and despair with the world. And me.
For those that insist on sharing their political angst with me in person, I'm introducing a new feature on my politix blog: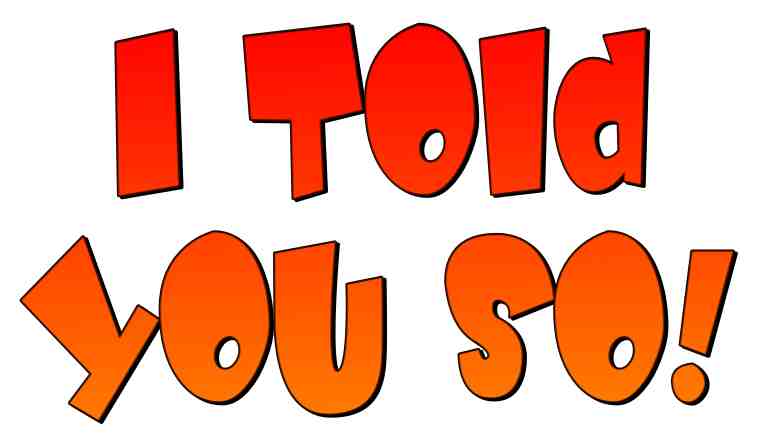 "I Told You So."
I'm keeping an audio recorder with me at all times. When the subject turns to President Obama's latest terrorist/socialist/liberal sin, I whip out the recorder and let them have their say. Which I'll post to the politix blog. Unedited and unfiltered. A bully digital pulpit.
Don't want to go on the record, no problem ("Did you see 30 Rock last night?").
Seriously, hope it doesn't come up. I HATE talking about politics. Or religion. Or my sexual fantasies. I've posted on this before.
So, if you love me… if you enjoy my company, but hate my politics… don't read my blogs. And I won't read yours. But we can both have our say and spend our time together talking about movies or books or that smokin' hot intern.