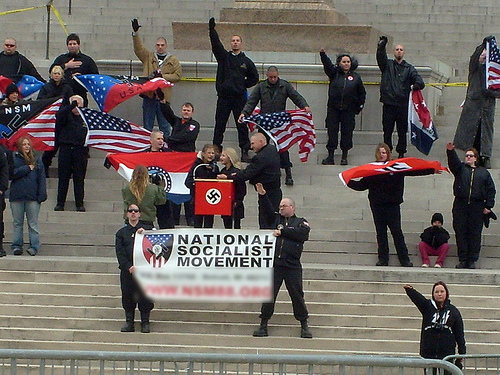 A rag-tag group calling themselves the National Socialist Movement were in town last weekend. Missourinet reporter Steve Walsh covered the brief march and rally on the steps of the State Capitol. This is my favorite photo from those he snapped.
Are the two young girls at the lectern singing? Perhaps America the Beautiful? Or some German beer hall song? Could they be making a speech? ("What the Neo-Nazi movement means to my junior high class")
How fucked up will the little boy (seated) be as he gets older. Mom thinks she's doing him a favor, teaching him to hate.
Some are holding their hands over their hearts, others giving the old Heil Hitler stiff arm. But, shit, there was no time to rehearse and it was cold and… fuck it, we'll just look tough in our SWAT gear.