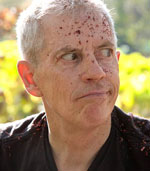 A beautiful Saturday on a perfect Ocotober day. Henry and his band of merry tree house architects and slave laborers invited me to join them to help record the event. But everywhere you looked there were MacBooks and iPhones and keeping a steady stream of images, video and blog posts flowing. The crew would stop from time to time to actaully work on the tree house.
Late in the day I found myself 30 feet up on the "bird's nest" platform with Bernard, my hands scant inches from his roarting chainsaw. My mind constanly evaluating which parts of my clothing would make the best tournequet. And if I fell, should I try to land on my feet on one of the other team members.
It's Sunday and work has resumed. Another perfect fall day. You can follow our progress here.