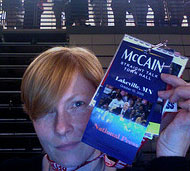 Ana Marie Cox was covering the McCain campaign for Radar Magazine until it shut it's doors on Friday. AMC tweeted us to her blog for the story:
"It will cost about $1500 to cover just the last day of the campaign, and over $1000 a day for each day leading up to it. While I still blog for TIME's "Swampland" * — and I will for as long as they let me! — I am without a source for travel funds. So, you know, anyone interested in sponsoring a foul-mouthed blogger, slightly used?"
Like a public radio fund drive, she offered premiums for different levels of giving.
"Over $100: My instant message screen name, regular personal updates via email and/or instant messages on election night."
I kicked in$150 because I'm a fan and liked the idea of helping a blogger. Seems like I wasn't alone.
"At the moment, donations come to about $2500 — a thousand past my goal of simply seeing the McCain campaign off into the gentle night come Nov. 4 (literally! sort of!), and just about enough to cover spending election eve out on the trail as well."
Ana Marie is hardly the first blogger to ask her readers to support her work. But I think I would have been willing to pay $5 or $10 a month for a year to fund her efforts. Is this some kind of model for the future?
Update: 10/28/08