Some of you regulars might be aware that I am a big fan of a local (Jefferson City) coffee shop called the Coffee Zone. I'm there every morning and I love the owner/proprietor, Taisir Yanis. There's not a sweeter guy on the planet.
Last spring I set up a blog for the Coffee Zone and maintain it on my own time and money. Taisir tries to give me a free cup of coffee from time to time but it's a labor of love.
I recently posted something silly about the Wawa coffee website. They "analyze" your personality based on how you like your coffee. I said something like, "…somebody give these pussies a cup of Rocket Fuel."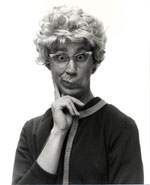 Today I got a text message from Taisir that said: "Pussies"
T speaks English as well as I do but his written English can be a little mysterious at times. So I texted back: "What about 'em?"
To which he replied: "Blog"
Seems he had been getting complaints from customers about my (single) use of the word "pussies" on the Coffee Zone website.
I apologized and immediately removed the offending word. T wasn't offended but he didn't want to lose a customer so that I might have a full arsenal of comedic words and expressions. And I don't blame him.
Then I started wondering how you lodge such a complaint.
Customer: "I'd like a double-espresso and a latte, please. Light on the foam."
Taisir: "Here you go, four dollars."
Customer: "By the way, I was very offended by something I saw on the Coffee Zone blog."
Taisir: "I'm sorry to hear that. What offended you?"
Customer: (sotto voice) "Pussies."
Taisir: "Sorry, I didn't hear you."
Customer: (louder) "Pussies!"
Taisir: "Where did you find "pussies" on my website?"
Customer: "Not so loud!"
You get the idea. As this scene played out in my head I was reminded of the scene in Silver Streak where Gene Wilder and Richard Pryor art trying to decide what kind of car to steal to catch up with the train that… never mind. That's not important. Wilder wants to steal a Chevy and Pryor wants to steal a red jag.
WILDER: "What are you doing? I thought we were gonna take the Chevy out back!
GROVER: (indicates a red Jag) Chevy!? That's a jerk-off, man! This here's pure pussy!
At some point later in the movie (I don't remember the scen), Wilder is screaming at Pryor, "Pussy?! Pussy?!"
There really isn't much connection between the scene in the movie and the post on the blog, but in the unlikely event the complaining customer also reads smays.com… I want them to get plenty of PUSSY! PUSSY! PUSSY!