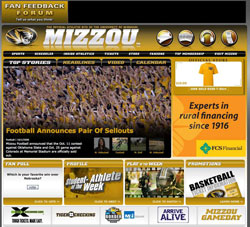 Branden Miller tweets the new look for MUTigers.com, the website of the Missouri Tigers. Mizzou is one of the universities with which Learfield Sports works, but I have nothing to do with the websites.
But I've always thought most of them were cramped, too busy and impossible to navigate. This new design is a huge improvement. I haven't poked around on the new site yet but plan to later today.
I hope similar make-overs are planned for our other properties.