Lost Remote's Cory Bergman (who works at MSNBC.com) points us to some nifty widgets that promise election returns (updated every 2 min). I stuck one on my politix site and might put one of the state widgets here as well.
"There are two widgets that come in three sizes each: a national electoral map and a state map of your choosing. So if you're a local media site in Denver, for example, you can post both the national map as well as a Colorado map, and users can even drill down to county-level results. Here's a mock-up example of the national widget using random test data: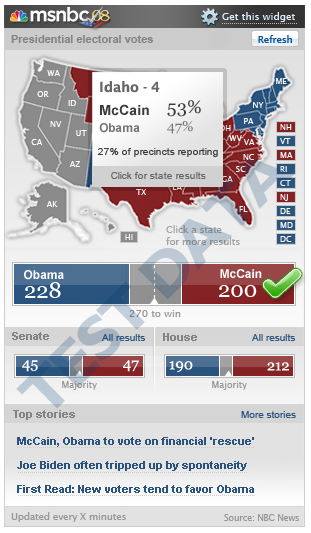 "More details here, and you can grab the widgets here on msnbc.com. (They'll display a countdown until a couple hours before the results start coming in on Nov. 4th, then they'll automatically switch to the map).
Our statewide news network in Missouri (Missourinet) gets returns from the Secretary of State's website. Not sure where the MSNBC.com data is coming from. (Sigh) I spent the better part of my youth trying to come up with a good source for election returns (without giving AP an arm and a leg). It feels weird to think that any blogger can grab one of these widgets and provide her readers with decent vote counts. Talk about disruptive technology. But then we haven't seen these buggers work yet…