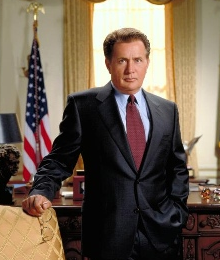 I never got hooked on West Wing but I must have been the only one not watching this popular TV show about fictional U. S. President Jed Bartlet (played by Martin Sheen). NYT columnist Maureen Dowd asked WW creator Aaron Sorkin to imagine a meeting between President Bartlet and Senator Barack Obama.
As you know, I'm fond of such fictional conversations, so I share a nugget or two from this one:
OBAMA The problem is we can't appear angry. Bush called us the angry left. Did you see anyone in Denver who was angry?
BARTLET Well … let me think. …We went to war against the wrong country, Osama bin Laden just celebrated his seventh anniversary of not being caught either dead or alive, my family's less safe than it was eight years ago, we've lost trillions of dollars, millions of jobs, thousands of lives and we lost an entire city due to bad weather. So, you know … I'm a little angry.
OBAMA What would you do?
BARTLET GET ANGRIER! … Mock them mercilessly; they've earned it. McCain decried agents of intolerance, then chose a running mate who had to ask if she was allowed to ban books from a public library. It's not bad enough she thinks the planet Earth was created in six days 6,000 years ago complete with a man, a woman and a talking snake, she wants schools to teach the rest of our kids to deny geology, anthropology, archaeology and common sense too? It's not bad enough she's forcing her own daughter into a loveless marriage to a teenage hood, she wants the rest of us to guide our daughters in that direction too? It's not enough that a woman shouldn't have the right to choose, it should be the law of the land that she has to carry and deliver her rapist's baby too? I don't know whether or not Governor Palin has the tenacity of a pit bull, but I know for sure she's got the qualifications of one. And you're worried about seeming angry? You could eat their lunch, make them cry and tell their mamas about it and God himself would call it restrained. There are times when you are simply required to be impolite. There are times when condescension is called for!