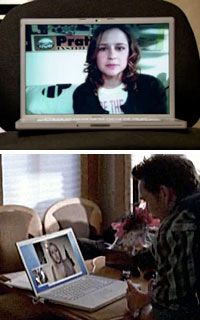 In the season premier of The Office, Pam heads off to art school with what appears to be a new MacBook. Back in Scranton, Jim has a MacBook Pro so the two love birds can chat. Of course, Michael has to get in on the fun ("Put me down, Michael. Take me back to Jim.")
Pretty good product placement. But no better than what we saw in the season premier of HBO's Entourage (I would have sworn I posted on this but can't find it), when Johnny Drama carried on an LA/Paris relationship via his MacBook Pro.
I'm sure PC users assume this is just Hollywood horse shit but it really is that easy to video chat on the Mac.
We're not talking about a bottle of Budweiser on the kitchen table. In both instances, the Mac's were written prominently into the story line. Would love to know how much Apple paid for these two placements? [via Cult of Mac]