In an earlier post I wondered about some recent move affecting the radio station I worked at many years ago. Our friend Jeff pointed us to a post on a radio message board: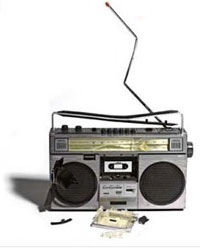 "Eagle Bluff Enterprises has received FCC permission to move KOTC from Kennett, Missouri to Memphis, Tennessee. KOTC (830 AM) signed on in July 1947 as KBOA. KOTC went silent on 6-1-08. The justification for the STA was "The station has been temporarily turned off pending format changes and equipment repairs". After the move, KOTC will diplex its 10 KW signal from a tower shared with WHBQ, 560 AM, in Memphis."
When I worked at KBOA the frequency (a daytime clear channel) was 830. When consolidation hit there was a series of call letter/frequency shuffles I was never interested enough to try to sort out.
I think they moved the KBOA calls to a frequency (105.5) licensed to Piggott, Arkansas, but operating in Kennett, MO. The 830 freq was assigned some newer, local (Kennett) calls (KOTC).
The KBOA I knew and loved died long ago. And it was nice to read some kind words about KBOA830.com. Thanks to all.