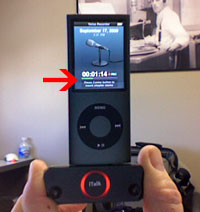 My chubby nano worked fine (insert joke here) and I've been quite happy with it. But I always preferred the original nano design and was happy see Apple return to it. This one just fits the hand better.
I won't rehash the features. If you care you've already read about and seen them. One of my favorites, however, is the improved "memo" recording. Just the simple addition of a little level indicator (see arrow) makes a big difference if you want to record something.
I made this recording with a little gizmo from Griffin called the iTalk. It's a little hot because I wasn't sure how close to hold the mic. I'll do something a little longer and post that, along with something from the Marantz PMD620 so we can do an A-B comparison.