Let's start with all the reasons I probably won't buy this car:
By the time I can get one I will have changed my mind
It won't make it up the hill to our house
Barb won't let me (for fear I'll be squashed by big truck or SUV) . Crash test video
Can't get it serviced locally
There are probably more but those are all that come to mind.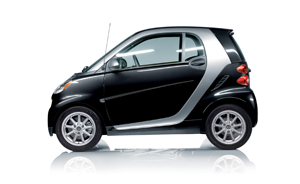 I figure if you're going to go small and fuel-efficient, go really small. As for #3 above, the Smart features something called the protective "tridion safety cell", to increase your chances of surviving a crash with a real car. It also has electronic stability program (esp®), anti-lock braking system (abs), and four airbags. The base Pure model comes standard with convenience features such as a 5-speed automated manual transmission with manual or automatic mode, central remote locking system, and a bunch of other stuff, including: "Lockable glove compartment" and "tire repair kit." Cool. And a jack for the old iPod.
This little bugger starts at under $12,000 and –according to How Stuff Works— get 46 mpg in city driving and 68 mpg on the highway. And they have some clever TV ads. And I just think it looks cool. I think I might drive over to St. Louis tomorrow and take a test drive.
UPDATE: Just talked to Martha at the St. Louis dealer. Year-and-a-half wait. Damn.