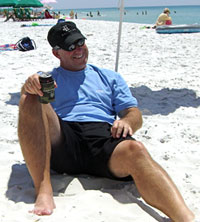 A couple of times each day last week, I'd walk down to the beach where Barb's clan was gathered. The kids were playing in the surf and the adults relaxed with cold drinks. They'd get in the water to cool off from time to time, but it wasn't uncommon for them to spend the entire day, just chilling on the beach, catching up on family news. I could do maybe an hour of this at a time. Tops. Then I'd go off and do something on my own.
I've spent the last couple of days hanging out at my local coffee shop. I can do this for four or five hours at a shot. I suspect I could do this for days. Until I dropped dead from dehydration like one of those Korean teenagers who die at their gaming consoles.
Alright. Please take out your Blue Books and write 1,000 words comparing and contrasting A Day At The Beach and A Day At The Coffee Shop. Begin.