Coffee Zone proprietor Tasir Yanis has an amazing mix of songs on his iPod. That's what we listen to here at the Zone. Maybe it's just the ambience of a coffee shop but the former radio program director in me often thinks Taisir's mix would make a great radio format. Except for all the commercials you'd have to jam in between the songs.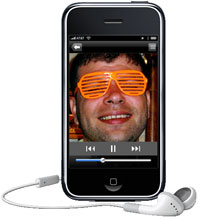 Or we could just download this little app for our iPhones. If I understand this correctly, it enables you to tap into your entire music collection on your home PC via your iPhone – and the music collections of your friends, too – and stream all of the above to your phone, wherever you go. [YouTube demo]
I found this on Mark Ramsey's Hear 2.0 who describes it as being able to "create our own radio stations from our own content and share them with friends who are mobile."
So I could listen to Coffee Zone Radio wherever I am? Or Planet Nelson Radio? Or Scott Brandon's Friday Funk?
Okay, the iPhone is starting to look more and more like something I'm going to have to have. But I really want the thing to stream video, too. I'm getting close.