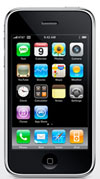 Given my love of tech toys in general and Apple stuff in particular, I find myself frequently explaining why I don't have an iPhone (or plans to own one). Put aside the fact that I might make or receive 5 mobile calls in a week… it's really a matter of time.
The time it would take me to get up and running is manageable. But I know I would be tweaking and "playing" with the phone until Steve Jobs is called back to that Garage in the Sky. It would be all-consuming.
For someone with very few real-world responsibilities (kids, chores, community service, etc), my days are full. Work, reading, exercise, dogs and, yes, blogging. Oh yeah… and Barb. She doesn't get her share of my time.
The iPhone would be one more digital child I don't have time to raise, care for and play with.