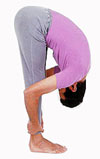 Last night's yoga class focused on the forward bend. We spent almost 90 minutes stretching, loosening muscles and joints, learning a little about body mechanics.
Kevin, the instructor, pointed out that touching our toes (or the floor) wasn't really the point of our exercises, but merely a small measure of our progress.
It's been a while since I touched my toes without bending my knees. At the beginning of the lesson, I was a good 6 inches from the floor and my lower back went to Defcon One. But by the end of the lesson, I was able to touch the floor (while making sounds that would shake a Gitmo guard).
At one point I was looking back between my legs at a middle-aged woman, bent double with her elbows on the floor. Oh my.
Last night's lesson erased any notion that yoga is not exercise. When it was over, I hobbled down the stairs to my car and had a good long cry.