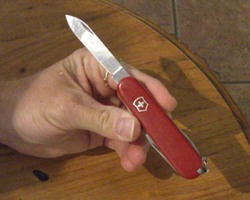 I recently asked a friend, who travels frequently, about airport check-in security. He laughed and pulled out his Swiss Army knife. Not one of the tiny pin knives, but a knife with a four-inch blade.
"I forgot I had this in my pocket and went right through security."
Isolated incident? Maybe. But does any reasonable person honestly believe we're any safer on a plane than we were on September 10th? Do you think a terrorist group couldn't smuggle a Stinger shoulder-fired missile into this country, park near a major U.S. airport, and knock down a plane? Remember, he's not trying to get away.
So what's all the TSA frenzy about. Show. A highly visible charade that accomplishes two things: 1. Persuade the American public their government is doing something to keep them safe. 2. Remind them they must be fearful and trust the government… to keep them safe.