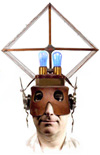 I started fooling with putting video online 5 or 6 years ago. It was extremely primitive back then. YouTube and embedded players were years down the road. I was doing everything on Windows (Studio 9) and the idea of a live video stream was science fiction. But I never doubted figuring out how to do this would come in handy.
On Monday, we're going to stream live video of a sales meeting, including a role-playing session. The sales reps in our "outer offices" will watch in (almost) real time and then take part in a discussion by conference call.
Not sure what my point is here, but whether it's Photoshop, or blogging or podcasting or video streaming… you have to play with the stuff BEFORE you have a practical application.
"So how'd you get that pussy blogging job, smays.com?
"Well, I started spending every spare moment online in 1996… and the rest was just dumb luck."
Oh, yeah. We're not using some six figure video conferencing set-up on Monday. Just a cheap camcorder and a MacBook Pro.