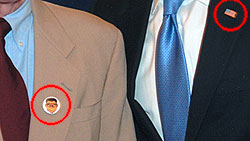 I'm not much on symbols. Like the endless array of ribbons you can stick on the back of your car. Or the little red Fight AIDS ribbons that were so much in vogue. And flag pins for your lapel. Senator Obama caught a lot of shit because he sometimes didn't wear one. So he must not love his country, right. Uh huh.
I sometimes wear a little computer mouse pin in my lapel and it drives people nuts trying to figure out what it is. Sometimes a button that reads: Never Shake. The actual reference is to babies, but I choose to use it as a warning not to shake someone my age (we pee very easily).
I debated pin or no-pin for my photo with Senator Obama a couple of weeks back but finally opted to show my support for Gnomies everywhere.