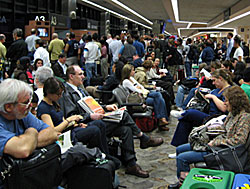 How bad has air travel in the U. S. become? We all know about the delays, canceled flights, germ-laden air, 12-hours-on-the-tarmac and all the rest. But the story my friend George shared this weekend is, I fear, a chilling portent of what's ahead.
He and a colleague were flying back from a business trip (Baltimore to St. Louis) on American Airlines. Of course the flight was over-booked (by three people) and the gate agent offered vouchers for anyone willing to give up their seat (I think he said it was $200).
A little while later they made the announcement again, including some reference to not being able to depart until the oversold problem (now down to two) was resolved. Still no takers.
A few minutes later the agent came back on the PA and made an announcement that George recalls as:
"Ladies and gentlemen. We are still oversold and we can't delay departure any longer. Please line up for boarding… the last two people in line will not get on this flight."
George couldn't believe his ears. Everyone in the departure area looked at each other for a second and then stampeded, pushing and elbowing trying to insure they wouldn't be at the end of the line.
This might just be the most chicken-shit thing yet from an airline. The gate agent could determine the last two passengers to book the the flight and break the bad news. Instead, they made the other passengers fight and claw like animals to get on the plane.
What about the infirm or women with babies, I asked. "No pre-boarding of any kind."
Yes, maybe this was an isolated incident. One gutless gate agent. But
can you imagine if this is –or becomes– standard procedure?