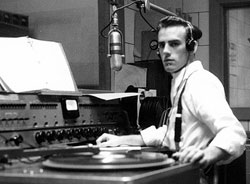 And I'm not sure why. I didn't "know" the man but, like many of his faithful viewers, felt as though I did. NBC devoted the full half-hour of the evening newscast to memories of Tim ("Mr. Russert" doesn't feel right).
Maybe it's my new-found interest in politics… or Father's Day rolling around again… but I'm reminded of my pop, who died six years ago.
Dad was not the "family man" Tim Russert was reported to be. At least not demonstrably so. But he had his passions and radio was one of them. One I shared.
So, in memory of Tim Russert –and my dad– I share this interview I did with my dad shortly before he retired from radio.