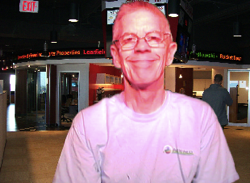 I finally figured it out. Sort of. If you can count stumbling on the right configuration and being unable to do it twice in a row "figured it out." But I now know that it can be done. (The background image is lobby of our new offices in Dallas.)
My setup is pretty crude. Two flood lights from Lowe's and a few yards of green felt on the basement wall. It's pretty clear that lighting is critical for this effect and I might have to come up with more or better lights before I try a video background.
And streaming (over the wifi) from the basement isn't gonna cut it. Too slow. Gotta get an Ethernet jack down here or set up in the upstairs office. But hey, that's what weekends are for, right?
I'm proud to say I PayPal'd the CamTwist guy $50. It's worth far more than that.