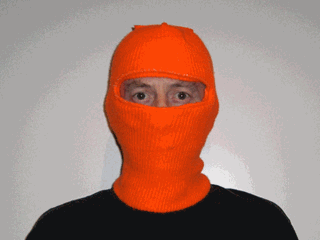 There. It's out in the open. I feel better already. I am the political blogger who posts under the pseudonym "Howard Beale." Because I so passionately believe all the things I write, I can no longer hide behind a curtain of secrecy. I'm out, baby!
I'm still trying to figure out how to work my blogging software so I can start using my real name on my blog posts, so you'll still see "Howard Beale" for a while. But it's me, smays.com.
And I call on my fellow phantom bloggers to pull off their masks and take ownership of their words. Trust me,  you'll feel better.
UPDATE: Okay, joke's over. Even my closest friends didn't spot this as a hoax. That's scary. This ridiculous post (and photo) should be obvious as a spoof. Looks like the real "Howard Beale" is safe for now.