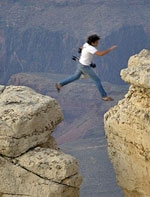 Hans Van de Vorst –a photographer from the Netherlands– took an amazing sequence of photos of a tourist at the Grand Canyon who was standing on a small rock atop a column of rocks with a camera on a tripod and taking pictures of a sunset.  According to this entry at TruthorFiction, the pix are legit:
"Nearby in the picture is the edge of a cliff from which he apparently jumped and to which he will need to once again jump when he's finished. The pictures, and the narrative with the pictures, leave the impression that the drop between the column of rocks and the cliff was 900 meters (nearly 3,000 feet) to the bottom of the canyon.
In reality, however, there is shelf between them that is out of sight below what is seen in the picture.  If the tourist had missed the cliff, he would have dropped to that shelf. It is still a death-defying act for him, however, because the drop from the front or either side of the rock is to the bottom of the canyon and even hitting the shelf safely is a risk. Van de Vorst said that he did not intend to hide the shelf. From where he was watching the tourist the shelf was not visible and he did not know of it until a later time."
I still can't get over the idea that he makes the jump in sandals.