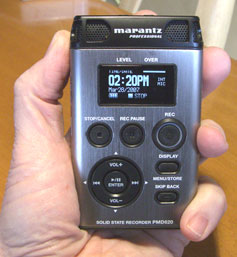 "Oh, you shouldn't have!" I shrieked, as I opened yesterday's birthday present. The only way Barb could have known I wanted the Marantz PMD620 Professional Handheld Field Recorder is… I told her.
I've been using the larger PMD660 for a year to two but found that a nice home with Jamie. So far I like almost everything I've seen and heard about the 620. The built-in mics are just so-so but I'll plug in an external mic for most work.
The size is what appealed to me. About the size of a deck of cards. And the display is easier for me to read than with the previous model. Download this short MP3 file if you want to hear what it sounds like. I'm using a Heil PR-20 mic.