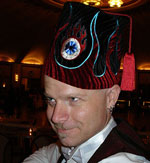 With one of his custom designed fezzes sitting comfortably on my head, I got Jason Rodgers on the Skype horn today to find out the story behind the fezmonger and Fez-o-rama.
Some are born to the fez, others are called. I believe Jason falls into the latter group. I was surprised –don't ask me why– to learn that Jason is trained in fashion design and might have written a text book or two.
I asked him about celebrity clients, his favorite designs, The Cult of the Eye, his fictional partner, "Joe," and ukuleles.
AUDIO: Interview with Jason Rogers 11 min MP3
Jason is the newest member of The Royal and Exalted Order of the Fez.