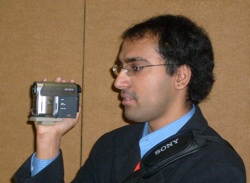 Meet Vinay Vaz. Vinay works for the Missouri Democratic Party. His job is to show up at GOP events and shoot video.
Missourinet reporter Steve Walsh ran into Vinay at this weekend Lincoln Days in Springfield, MO. (It's the big annual get together for Missouri Republicans.) Steve introduced himself and asked to speak with Vinay, who responded: "I'm not authorized to speak to the media."
I suspect the Republicans have their own guy(s) out shooting video at Democratic events. Absolutely nothing wrong it. The practice came to national attention when Senator George Allen gave a shout out to a young man shooting video at one of his events.
Like Steve, I would love to interview Vinay. What sort of moments is he looking for? How does he edit and archive the video. Who makes the editorial decisions? Is "tracker" your official job description?
As Steve mentioned in his blog post, the trackers are now being tracked. Did Vinay shoot video of Steve taking his picture… well, you get the idea.