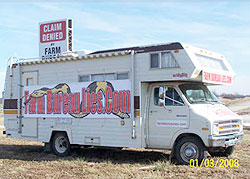 Our offices are just a couple of hundred feet from the headquarters of the Missouri Farm Bureau. As I headed out for lunch I noticed a motor home had pulled off the highway, just in front of FB building. I didn't have my camera (I know, I know) so I didn't get a shot but found this on the FarmBureauLies.com website.
This guy is not a happy camper. And I have no idea who is right in his dispute with Farm Bureau.
I'm just wondering how many people got back to their offices and did what I did… pulled up the website. And if you're Farm Bureau (or any big company), what –if anything– is the proper response. I'm sure the lawyers would tell them they can't say anything about a matter that's being litigated.
As disgruntled customers take their grievances online, it would make sense for big companies (and small ones) to have a online strategy of their own (I looked for a FB blog but didn't find one). Seems to me companies have to find some way to engage with their customers in this space.
If the sign on the camper read "Learfield Sucks" and was parked in front of our building, what would we do? If Clyde Lear had his way, he'd probably go and talk to the guy. Maybe record an interview with the guy, let him tell his story. And then post all or part of that on the company blog.
Would the guy be any less pissed? Who knows. Would we look more responsive or concerned as a company? To some.