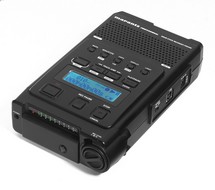 I'm selling I have sold my beloved Marantz PMD660 Digital Recorder. It's in mint condition, I just want something smaller. You can see all the specs on the 660 here and if you happen to be in the Jefferson City area, I'll let you take it for a test drive.
The PMD660 sells for between $450-500, and I'm starting at $225. If there are any budding podcasters out there, this would be a good recorder. You can reach me at stevemays@gmail.com.
UPDATE: That didn't take long. And we have found it a good home with a podcaster who wants to crank out more programs. More on that later.