Winding down here at Macworld. Hit the exhibit floor again and watched a very cool demo of Photoshop Elements 6 for the Mac. Out in March. Show continues through Friday but I head home tomorrow.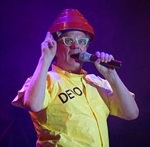 Last night our gang attended a Devo concert at the historic Warfield Theater. I lasted about 15 minutes. Not sure if it was the head-exploading decibels or the depressing sight of a bunch of guys my age (or very close) dressed in yellow coveralls and orange plastic hats.
Dinner tonight at some fancy-pants French restaurant. More on that later.