Missouri governor Matt Blunt met with reporters at the Capitol this morning to discuss yesterday's surprising announcement that he will not seek a second term. Blunt says he has accomplished the goals he announced for his administration during the 2004 campaign and feels it is time to move on and to spend more time with his wife and son.
When this story broke late Tuesday, I Googled around and found this highly produced video on YouTube. (I found it interesting the governor chose to to break the story on his own YouTube channel) Here's a photo our reporter shot at this morning's news conference. I'll ask around the newsroom, but can anyone tell me why the governor would video the event? Do the record all news conferences? If so, why?
Update: Don't know why it didn't dawn on me that this was some news photog. There were a dozen or so covering the news conference. The gov's staff shot some stills but no video. Never mind.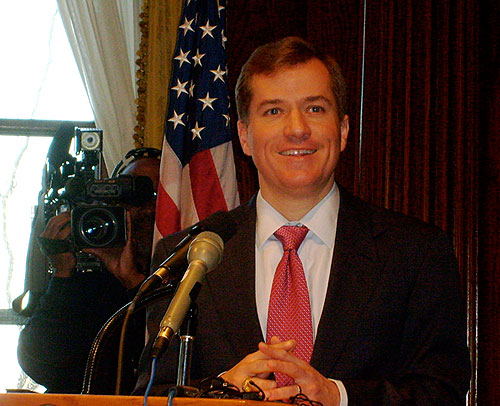 I think this (deciding not to run for a second term) adds weight to my theory (which I've posted previously) that Republicans are quietly and secretly fleeing the planet. I've lost track of how many have mysteriously left congress ("to spend more time with my family").
I'm convinced there's a Starship being readied at a secret base in the New Mexico desert. One by one ("let's not all leave at once") the GOP is getting out of Dodge (or Earth in this instance) before the shit hits the fan. If you have a more plausible theory, comments are welcome.