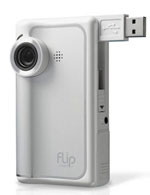 Jeff Jarvis is attending Davos08 (a "World Economic Forum), where "small video cameras are the hot thing," and he's posted a short video clip (with the editor of a big German newspaper) he (Jarvis) shot with one of the little FlipVideo cameras.
These things –which are cheap and the video isn't too bad– seem to have been designed for making it easy to shoot video and put it up on the web. The camera even has a little flip-out USB connector you just slot into your computer.
From the image on the website, it looks like there are just three buttons on this thing. I was skeptical until I saw the video Jarvis posted. If you're looking for something easy and fun, this might be it.