The MicPort Pro (from CEntrance) might just be the USB mic preamp I've been looking for (for years). It's a little gadget that lets you plug a professional grade dynamic mic into the USB port on a computer. I've tried several USB mics but none really sounded all that good. And I have a mixer with pre-amp that allows me to use a good mic with the MacBook but that means lugging around more hardware.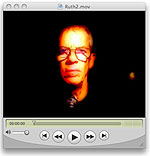 I won't try to describe the features and functions of the MicPort because the video at the bottom of this page does a fine job of that. ("No drivers. No batteries. No latency. Just plug it in and you are ready to record.")
You can hear what it sounds like on this 30 second video clip. Yes, I'm still playing with Photo Booth and and yes, the audio/video still isn't sync'd. Once they get that fixed, this will amuse me for hours.