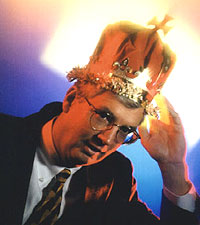 Friend and co-worker Bob Feldisch has been with our company about a year longer than I. He's taking on new duties and the post on our corporate blog is note-worthy.
When King Bob started with Learfield:
Ronald Reagan was President
Lee Iacocca was pitching K-Cars
"The Terminator" was released

Michael Jackson's hair caught on fire while filming a Pepsi commercial
Apple released the very first Macintosh
Since that time:
King Bob has logged about one million frequent flyer miles serving his clients
He's driven over half a million miles across Missouri, Kansas, Iowa, Illinois and Oklahoma
He has generated nearly 30 million dollars in sales for the company
This makes a great blog post but you probably wouldn't see this much imagination and fun in a corporate, inter-office news release. I love the fact that the blog was was the first and –as far as I know– only place this news was posted.