"The Web has thousands of halfway-decent blogs. This is one of them." That's how John Walkenbach describes his blog. No idea how I missed this wonderful blog all these years, but it's in the reader now. The few minutes you waste here can be better spent on the J-Walk Blog.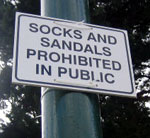 Update (Sept 30, 2007): Yesterday morning I happened across the J-Walk Blog and posted the link above at 11:22 a.m. CDT. At 10:22 a.m. Mountain, J-Walk gave smays.com a nice little mention. (Not sure how this could happen so quickly because I can't figure out the time zone thing.)
Not long after the mention on J-Walk, I heard from Keith Povall, a delightful chap (bloke?) who blogs from the UK. Keith is also the genius behind the Sandals and Socks website.