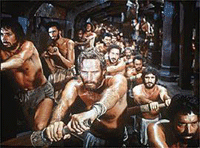 I'm looking for a young man or woman to help me do some web stuff at work. This would be a paid internship or part-time gig to start, but could turn into something more. I'm posting here because I do almost everything here first. And nobody knows me better than you who haunt the digital hallways of smays.com.
As the image suggests, this person will be chained to an oar, deep in the bowels of our digital galley ship. I'm searching for someone to help me keep up with a whole bunch of websites (Learfield sites and client sites). Things like checking and updating links, processing images for use online (a little Photoshop savvy would be very helpful), and the like. Too numerous to list here.
If you know a little about blogging and flickr and YouTube and such… go to the head of the line. If your first questions are about hours and pay… never mind. You'd hate this job. The person I'm looking for spends more time online than off. They sometimes check their email before they brush their teeth in the morning. They watch TV while holding an open laptop.
This ain't a resume kind of position. I'd much rather get a link to a blog or a "why-I'm-the-right-person-for- this-job" video on YouTube. Otherwise, tell me in an email (no attachments) why you would be good at this. 500 words or less. If the email isn't good, you'll never get an interview.
If you know someone like this, send them a link to this post.
A special shout out to Corey and Lauren K: You guys were great at this and I'd love to have you back. Or if you know someone half a good, send them my way.