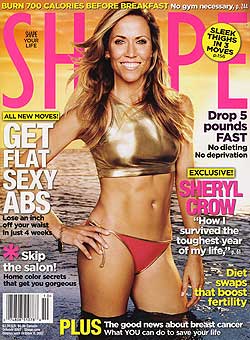 I always get a few "you filthy perv" emails when I post one of these photos of Kennett's Favorite Daughter, Sheryl Crow. I promise, I'm motivated by nothing more than small-town-pride. And appreciation for the work it must take to keep a 45-year-old body looking this fine. (I'm getting close to perv, aren't I?)
What can I say? Smart, talented women in control of their lives is a turn-on for me. Okay, it doesn't hurt if they're hot.
The cover is from the October issue of Shape. Previous posts on SC.