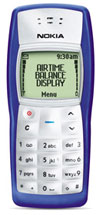 I like paper plates (the good ones, not the cheap ones) and have the decency to feel guilty about using them. I've worn a plastic Casio wrist watch for years (less than $20). And tonight bought a year's worth of minutes for my little Nokia Tracfone.
I paid $19.95 for the unit at Wal-Mart and have been buying additional minutes for the last 18 months. The Tracfone was made for people like me (and Avon Barksdale). No synching with Outlook. No texting. No camera. No nothing.
Yes, I do keep the Casio Exilim and the MacBook by my side, but the Tracfone and the camera fit nicely in the MacBook case. Weight is not an issue, given my limited travel.
I'll bet I saw 50 iPhones at Gnomedex and everyone else had state-of-the-art hardware. When I pulled out the Tracfone at lunch, the guy across the table asked, "What's that?"
"North Korean. I'm not supposed to have this out in public. Sorry." …as I jammed it back in my pocket.
So I've got all the minutes I need for the next year, for about $11 a month. What is that, 35 cents a day?