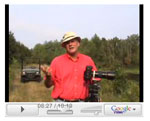 Henry has posted the first of three video clips (and some kind words) he and I shot with the idea of giving his clients/fans a sense of his creative process. You look at his images and think… "Damn! How'd he do that?" This little micro-documentary (3 parts) takes an amateur stab at explaining.
I shot it with the Sony (on a tripod). Rather than mic Henry, I used a little shoe-mounted mic that did remarkably well. The lighting inside kinda sucked, but this was a quick-and-dirty project from the git-go. Edited in iMovie.
These little videos work because Henry's passion and enthusiasm for his art transcends the technical short-comings. And one final thought…
Before YouTube and Google Video et al, this would not have been as much fun. We could have posted the video files and anyone with enough patience (and the right codec) could have downloaded and watched. Plugging the Flash player into a blog post for one-click viewing… much better.