Reuters: A powerful undersea earthquake has hit Indonesia's West Java island. No tsunami warning (yet) and no immediate reports of damage or casualties. There has been some panic (no shit). The Indonesian quake watchers measured 7.0, while the U.S. geological survey said 7.4.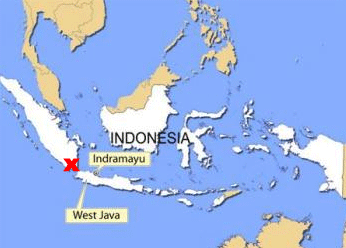 The quake struck 46 miles northwest of Indramayu and could be felt by residents in the capital Jakarta, as well as in the nearby city of Bandung (X marks the spot), which is where brother Blane & Family live. Still waiting to hear.
Update: Better map.
Update: 10:23 p.m. Just got email from Blane. "What earthquake?" That's my baby brother.