If the hype surrounding the iPhone hasn't subsided yet, it will soon. Then what? Once the new has worn off this Next New Thing, will users still love 'em, or will they –like your mom's cooking– be taken for granted. Or, worse yet, will the shortcomings (so well chronicled) become annoying and tiresome?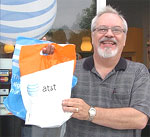 Those are some of the questions I hope to answer with a series of  interviews I'm calling The iPhone Confessions. Brief visits with a few friends who took the iPhone plunge. Are they still gushing at the end of Week One? Or grumbling?
We'll start with a visit with Tom Piper, a looonnnggg time Mac enthusiast and Early Adopter (LTMEEA). He was there when the iPhone was announced and in line to buy one of the first batch. The interview runs about 12 minutes.