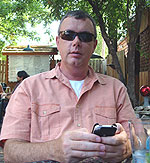 Dave Morris is the voice of great radio stations and television stations, film studios, syndicated shows and more. World wide. I know this because it says so on his website. He's also a blogger (a good one). And a gadget junkie.
He was one of those crazies standing in line the day the iPhone went on sale, so we called him up for a report on Week One.
Unlike some of the others we've chatted with for this series, Dave is not a Mac guy. Windows all the way. But he's only slightly less "gushy" about Apple's latest creation.