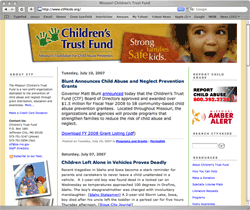 Children's Trust Fund of Missouri is one of our clients and, for the last few months, I've been helping them with a make-over of their website.
Their previous site was classic Web 1.0. It was designed by a company in St. Louis and any changes or updates had to be emailed to the developer who would, in time, make the change. Most of the "current" content was PDF news releases that weren't very "new. The site was hosted on state servers. The CTF guys just were not happy with their site.
I persuaded them to try Typepad and incorporate a blog as their primary content element.
They took the site public at the first of the month and, although still tweaking some of the content, it looks and works great. And the best part… they are now in control. Paula and Alicia know how to add pages, maintain links, and manage the site top to bottom.
Kirk, the executive director, is finding his blogging feet and posting regularly. From his fingers…to the world. Boom.
We've shown them how to use Flickr, Google Calendar and YouTube. And all of this for a fraction of what they paid for their previous site, which simply wasn't meeting their needs.
Helping folks like Kirk, Paula and Alicia tell their story is extremely gratifying. If Web 1.0 was selling fish, Web 2.0 is using great new tools for helping people learn how to fish.