Met up for coffee with old friend (and former Learfielder) LeAnn McCarthy last week. She's a PIO (Public Information Officer) for the Missouri Gaming Commission. I think I knew this is the governmental entity responsible for some kind of oversight of Missouri's casinos, but that's about it. As LeAnn explained some of the things the commission does, I became more interested and when she told me they have this room where they test and measure and check-out all of the gaming devices, I asked if I could get a look.
It's called the "Gaming Lab" and it's filled with what I (a non-gambler) would call "electronic slot machines." As well as a crap table, a roulette table, and a couple of Black Jack tables.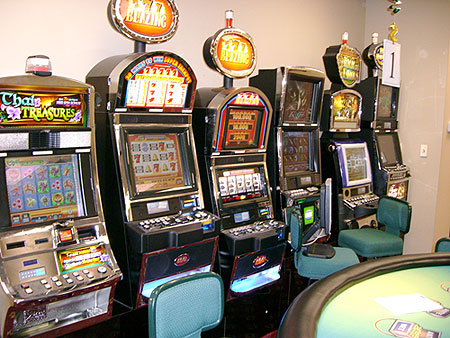 LeAnn introduced me to Clarence Greeno, the Gaming Enforcement Manager for the commission who was kind enough to answer a few questions and explain some of the commissions many functions and responsibilities.
Clarence showed me another, smaller, room that was filled with surveillance monitors that displayed real-time images from above the gaming tables in the first room. This is exactly like the gear the casinos use (and you've seen in countless Las Vegas heist movies).
Several large metal cabinets were filled with chips, dice, playing cards and a variety of scientific-looking instruments for measuring and weighing it all.
Missouri has eleven casinos and the Missouri Gaming Commission is tasked with seeing that the games, the people run them and the people who play them are all on the up-and-up.
I regret not being more prepared but I had no idea of what's involved. Our chat lasted about half an hour but there was easily another half hour of interesting stuff I missed after turning off the recorder: RFID chips in larger denomination casino chips; ever more sophisticated games designed to appeal to younger players that have grown up with computer games; "Minority Report" games that recognize individual players and "market" to them based on their personal interests and history.
"Hello, Mr. Mays. Back for another run at the Black Jack table. We've got a couple of new games that we think you might enjoy. Shall I reconfigure my interface so you can take a look?"
My thanks to Clarence Greeno and LeAnn for their hospitality and a fascinating tour. Before I left, I urged them to consider a weekly podcast about gaming in Missouri and the commission's role in seeing that everyone plays fair.